The breads and baguettes are baked, most of the time, on Thursdays, Fridays and Saturdays of each week.
To place an order, please call with your order at least 3 days before baking day.
Usually, there is a limited number of breads available without order.  Please call for availability.
Sourdough Country Bread (Traditional)
This artesian sourdough country bread is extremely crunchy.  The pulp is wet, shiny with irregular large holes.  The recipe does not require the addition of commercial yeast.
The basic ingredients are: leaven (naturally fermented starter), organic wheat flour, organic whole-wheat, water and Himalayan salt.
This bread is incredibly delicious.  The taste will make you a bread lover.  We eat this bread at home everyday.
$13
weighs about 2.3 lbs. (1 kg)
Order yours at 860-385-1195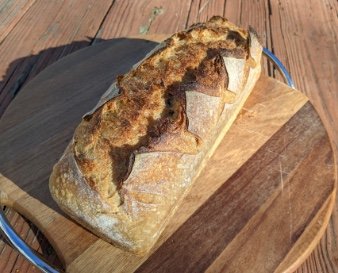 Sandwich Sourdough Country Bread
The sandwich version of the popular Sourdough Country Bread is based on exactly the same organic recipe as the original.
The bread is baked inside a form to give it the "sandwich" shape when sliced.
"Sandwich" shape – same great taste!
$13
weighs about 2.3 lbs. (1 kg)
Order yours at 860-385-1195
Olive Sourdough Country Bread
The olive bread is based on the Sourdough Country Bread recipe, however, the additional ingredients is what makes this bread truly unique.
Green and black olives with roasted walnuts and herbes de Provence with lemon's zest, pack the bread with a variety of flavors all hitting your taste buds at once.
This bread is my husband's absolute favorite.  He always looks forward to the days when I bake it.
$15
weighs about 2 lbs. (900 g)
Order yours at 860-385-1195
Sourdough Petite Baguette
The sourdough petite baguette, a French favorite, has just a perfect crunch and taste as you bite into it.
Its organic ingredients mimic the Sourdough Country Bread recipe in an easy to handle size.
Whether you plan to bring some for picnic, a bicycle adventure or lunch at work, its taste will make you feel like Parisian overlooking the Eiffel tower.
$5 each
about 12 inches long (30 cm)