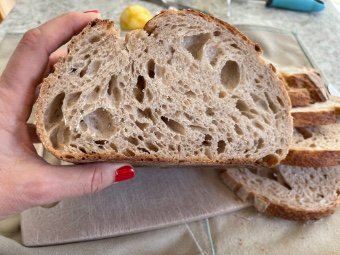 Authentic Sourdough Country Bread
There are many breads, but the slow fermented sourdough bread with natural leaven is by far the most delicious and healthy bread one can ever taste.
Based on the traditional old Polish recipe, this bread contains only organic flour, water and sea salt.  A naturally fermented leaven is used to make the dough rise over two days.
The scoring of the bread and the baking process are done with the upmost artesian skill that takes years to learn and perfect.
The result is truly magnificent not only in looks but also in flavor.  To taste a bread like this, one would have to travel to rural Europe and find a small local bakery.
And now, it is available to you.
Bread lovers, this is your dream come true.  I hope you enjoy it!
Order yours at 860-385-1195